Just like cat owners know not to keep plants in the house, dog owners know their grass will never be greener- unless it's synthetic, that is. On top of the seasonal and miscellaneous challenges of growing and maintaining a luscious natural lawn, dogs present an extra challenge- a few of them, actually. Let's take a look at why dog owners are choosing to replace their lawns with synthetic turf and how that idea just might be the answer to all your yard issues.
We'll also give you our top five recommendations based on durability, versatility, appearance, and a few other significant factors.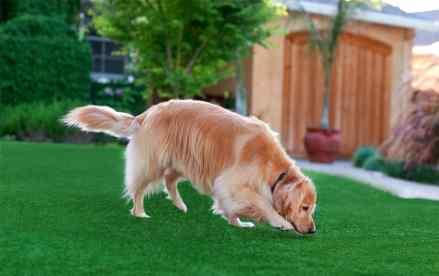 Why artificial turf is a good idea?
No Digging in the Yard: As every dog owner with a yard knows (and those without one, we really feel for you), dogs like to dig. Digging just so happens to produce bald spots in your yard and if your dog enjoys scraping out tunnels, chances are, your clean, indoor carpet also suffers the consequences. So, reason one? Clean paws and a seamless lawn.
No Lingering Smells from Dog Poop: Many people think that synthetic turf will be a hassle to deal with when dogs start using it as their personal bathroom, but the right type of artificial grass cleans better than natural turf. By "better", we mean that the lawn doesn't suffer from thinning or yellowing due to consistent use and because the grass is synthetic, you can use products to eliminate odors without killing your lawn in the process.
Dog Urine won't Destroy your Grass: Even worse (surprising, I know) for your lawn is dog urine. Unlike feces which are smelly at worst, dog urine is high in nitrogen which can sizzle up grass permanently by burning its roots and creating dead spots. "Dead" as in- nothing will grow there again unless you replace the soil and ditch the dog.
Fewer Bugs: Another common issue of the dog-and-yard combination is the virility of itchy, toxic, or parasitic critters. Turns out that fleas, ticks, ants, and (if you live in an area appealing to reptiles) snakes don't find synthetic grass very appealing. This makes summer a huge, careless fun-fest for your dog. Also, it makes your life a whole lot easier since protecting your lawn (pets and children) from bugs can be a lot of work.
Low Maintenance: Since the grass isn't natural, you don't have to water it consistently to make sure it grows and maintains that beautiful green color all year round. There are no seasonal considerations or worry of dead grass patches, fertilizers, and so on.
Some disadvantages of artificial grass
Hot to Touch: Artificial grass tends to hold heat more than real grass does. Therefore, it can feel warm when you touch it, so be sure that you use a blanket in areas where your dog may play or relax. *Note: Various types of infill might make the temperature higher beneath the grass as well
Melting: Artificial Grass is usually flame retardant, so it won't catch fire. However, it will melt if something very hot falls on it or if the sunlight is intense. Nonetheless, it can get replaced.
Bad Odors: Similar to real grass, artificial grass will hold horrible smells if you don't clean it regularly. Depending on the infill you use, it can make the smells worse.
No Fresh Cut Lawn: An artificial lawn won't have that fresh-cut lawn smell that many homeowners and gardeners love.
What kind of fake grass suits dogs best?
Artificial grass is amazing in so many ways, one of which is specialty- in this case, we're looking at synthetic turf especially designed for dog use. When it comes to artificial grass made for dogs, there are a few important features to keep in mind.
The product must be made from a polyethylene or polypropylene material (nylon is very porous) and designed with a specialized backing style to maximize draining capacity. Most pet-friendly turf also incorporates antimicrobial agents into its formula to prevent the growth of toxins and neutralize odors. Artificial grass made for dog use is also devoid of infill because it retains moisture and the ideal turf is one that airs well.
Our Recommended Brands
The hallmarks of the Pet Zen Garden are a material that's easy to clean, with safe, non-toxic construction, a self-drainage system, and maximum durability.
Small dogs, medium and large alike, will enjoy playing on this realistic surface that gives them all the benefits without any harsh side effects.
This grass is also damage-resistant, a huge concern for dog owners who have dogs that love to dig up the grass. Even if your dog poops on the turf, it can get easily washed away using a water hose.
Soft 4-Toned Texture
You'll find that Pet Zen Garden grass is soft under your pup's paws, making it the most comfortable for him to use to roll around and play on, as well as to do their business. The Pet Zen Garden grass is completely permeable to urine, thanks to its being rubber-backed with drainage holes. The 4-toned blades offer a natural and light appearance to the grass, maintaining the natural look of your lawn with none of the mess or smell.
Durable and Easy to Maintain
Pet Zen Garden is extremely low maintenance. It's damage-resistant, and doesn't get muddy—giving you a clean, groomed, and neat look year-round, even during the stormiest times of the year. Not only that, but your dog will love prancing round on their Pet Zen Garden grass all year round, keeping their paws clean and staying safe and healthy all the while.
Versatile
Enjoy the versatility of the Per Zen Garden, as it comes in multiple measurements, ensuring you get the perfect fit for your yard. The grass blades are almost 2 inches long (1.7″), and you can cut them to your liking if you wish. The grass feels very soft, yet the turf weighs 70oz, making it sturdy and able to withstand even the most hyperactive dogs.
With Pet Zen Garden, you can expect to benefit from the markers that go into creating an excellent artificial dog grass that your pups will love. These include safety, easily drainable construction, easy to clean material, and extreme durability.
Pros
This is one of the best artificial turf solutions for the money
This turf is very versatile, come in a variety of sizes to meet your needs
The artificial grass is durable, making it harder for dogs to rip the edges up
This grass is easy to maintain and also easy to assemble
Cons
The grass may shed
Some buyers have stated that there was an unpleasant odor when they first opened the packaging
Savvy Grow AstroTurf combines UV- resistance, durability, softness, and a natural four-tone color design to create an incredibly beautiful and natural-looking lawn. Dogs love the feel of this artificial grass, and they will want to stay outside and play all day long.
This synthetic grass looks and feels like the real thing, but it requires minimal effort. If your dog is still potty training, this is a no-hassle way to teach him to use the bathroom outside.
You can even choose to purchase the small patch for this specific purpose. The grass isn't toxic, won't cause any itchiness, and is odor-resistant.
It doesn't contain any fillers, and it stays in an upright position due to the premium quality of the grass blades. No more concerns about flat patches!
Pros:
The grass looks very lush and real, having four different tones of fade-resistant green colors
The artificial turf can withstand corrosion and harsh weather conditions like rain, UV rays, and consistent wear
Dogs love the soft feel of this grass beneath their paws
It's very easy to install
Cons:
The grass gets hot very fast
Some small puppies have an easier time pulling up the edges
Constructed of polyethylene, ZEGNEER artificial grass tiles for dogs are odorless, don't contain any harmful chemicals, and they're non-toxic. In addition, these tiles have an interlocking system. That means you don't need any tools or adhesives to install them.
You can add or take them away as you please with no hassle. They can get used both indoors and outdoors as well. The immediate drainage holes beneath the turf provide immediate release of liquids, perfect for dogs that like to go in the yard.
ZEGNEER artificial grass is wonderful for small dogs and puppies, and it'll save you a lot of manual labor throughout the year!
Pros:
These grass tiles are easy to install, and they look very realistic
The self-draining system makes the tiles very easy to clean
The tiles don't have any odor or harsh chemicals, and they're non-toxic
The artificial grass turf is perfect for small dogs and puppies
Cons:
The grass comes apart easily after installation with a little pulling
Frequent episodes of dog poop can make it hard to remove the smell
MTGrass rugs are free from harmful substances such as heavy metals and other toxic substances. Therefore, you don't have to worry about the health and safety of your kids and pets. Moreover, this faux grass is made of polyethylene/ polypropylene, which is UV-resistant and remarkably durable.
The high density of the artificial grass makes it feel lush, and the tailored four tones design simulates the soft feel of real grass seamlessly.
The drainage holes deal with dog waste; this makes for an easy cleaning job, and it dries more quickly.
This grass can get used on patios, porches, decks, balconies, and backyards as well.
There's no mowing, watering, or spraying of any fertilizers. Use it in the front yard, the backyard, and all other indoor and outdoor spaces.
Pros:
The turf is versatile, and you can use it in many different places to serve various purposes
The grass is low maintenance and saves you money on gardening supplies and your water bill
It's easy to clean and safe for your children and pets
It mimics authentic grass very well
Cons:
There have been reports of shedding
Sometimes it doesn't come evenly cut
The entirety of this lawn blanket comes with green materials. The core of the grass is durable and able to handle both extremely cold and hot weather. What's more, the straw mat is comfortable and soft, making it very conducive for the pet to lie on it without fear of damaging its paws.
This turf comes with a robust rubber backing and drainage holes, allowing it to dry quickly after rain. The lawn is very easy to clean. Just wash the urine and the smell that accompanies it away.
Pros:
It's easy to assemble
It has environmentally safe materials
The turf is very durable and will last you a while
Cons:
After a while, the grass begins to shed
Odors can sometimes stick to the grass
Golden Moon Pet Grass is designed for dog owners who are tired of their dog relentlessly tearing their yard to shreds. With Golden Moon artificial grass for your dog, you can get back your sanity and a neat yard all year round. Regardless of how many dogs live in your home or how big they are, Golden Moon's pet turf is designed to withstand any wear and tear their paws, teeth, and claws might inflict on it. Not only that, but mud and puddles will become a thing of the past.
Highly Permeable
Golden Moon has created their pet grass specifically to meet your pets' needs and your needs as a pet owner. As a result, this pet grass boasts a high permeability and looks and feels just like real grass. This allows liquid to flow straight through for your convenience, but also gets your dog used to the feel of real grass while potty training, or eliminates the learning curve for older dogs who are already accustomed to it.
Non-Toxic and Safe
With Golden Moon, you need not fear for the safety of your pets or any children you may have living in your home. This pet turf is made completely of safe materials and is antibacterial. This soft and lush lawn solution is 100% safe for your children and pets.
No-Fuss Clean
This easy-to-clean grass mat can be restored to a like-new condition by simply rinsing it with mild detergent first, followed by fresh water. From there, replace it in its intended location and continue its use as normal. Your dogs will still love to play on their Golden Moon Pet Grass for years to come, and with a simple clean from time to time, it will stay in its best condition throughout its lifetime.
No more dogs coming inside your house with muddy paws, or being greeted with gross smells when you step into your backyard!
Pros
Easy to clean
Safe for children and pets alike
Soft and lush under your dog's paws
Cons
Has a smell at first, which does go away
The SynLawn Pet System artificial grass is designed for your pet's ideal experience. To play, do their business, or simply to roam around outside and bask in the sunshine, SynLawn artificial grass offers superior comfort and durability for your furry friends.
Low Surface Temperatures and Natural Look
 Utilizing resilient Y shaped grass blades featuring HeatBlock Technology, your SynLawn pet System will have consistent low surface temperatures. This heightens your dog's comfort, with soft blades and low temperatures under-paw. In addition, the different color tones result in a natural appearance from your artificial grass all year long.
Environmental Impact
 This pet turf is designed to be ideal for pet play and to provide an agility area for animals of any shape and size. It's environmentally friendly, thanks to its exclusive EnviroLoc backing system. This replaces as much as 60% of petroleum based polyol with renewable soybeans. Not only does this lessen its impact on the environment, but it also offers superior strength as well as dimensional stability.
Durable Material
The resilient design utilizes a dense polypropylene thatch that offers plenty of support, while the soft blade offers the latest technological advancements to create added support in the spine cross-section. With everything that the SynLawn Pet System offers, we definitely view it as one of the best choices on the market as an artificial grass for your dog.
Pros 
Durable Polyethylene Blades
Easy to clean
Heat resistant
Long-term durability
 Cons
Costly
Time-consuming installation
What NOT to use
Companies tend to go stamp-happy when there's an opportunity to label for profit and you'd better believe there are some useless "dog-friendly" turf accessories that were not designed with genuine dog concerns in mind.
Take, for instance, infill. Many companies are pushing out ceramic infills or so-called "odor control" infills which supposedly compliment dog-friendly turf. In reality, any type of infill clogs the turf, preventing proper drainage, and can be an infuriating hassle to clean if your dog has an occasional spout of diarrhea- which most definitely happens.
Something else to look out for are the different types of foundation filling (this is the bottom layers that make up the turf's artificial draining system). Decomposed granite and pea gravel both tend to harbor insects (and pea gravel can carry sharp objects) while rubber matting can inhibit draining, cause the turf to retain heat, and foster bacteria. Mulch is yet another no-no; this stuff can be harmful to your dog's liver if he happens to be the nibbling kind.
Best ways to clean artificial grass for dogs
Spray it down with a hose regularly – To maintain artificial grass, you only need to clean it about once a week. Cleaning will usually require your water hose, and with a simple spray, you can ensure that debris and dust don't accumulate in your grass. A weekly routine spray will preserve the appearance of your faux grass.
Use a Commercial Cleaner – First, be sure to remove any leaves, dirt, dust, or particles. Grab a broom with rigid bristles or a rake. Get your commercial cleaner and prepare it per the instructions. Read over the product to ensure that there are no harsh chemicals. Hose down the area which needs to get cleaned. Next, apply the cleaner in sections for more effective cleaning. After that, rinse the product out of the grass thoroughly, get rid of all residue. Repeat this process and apply the cleaner to any other sections. Be sure to allow the turf to dry before you broom or rake the blades into their smooth and proper position.
Use a Leaf blower for Debris – Having a leaf blower will do wonders for you. It is a convenient way to conveniently blow away the accumulation of debris, whether it's leaves from fall or branches leftover after a boisterous storm. Blow all of the debris into one corner of your yard. Next, collect it into a bag for disposal.
Use a DIY Cleaner – Use a water solution and a granular detergent to clean and remove any stains. Start by mixing a pint of detergent with a teaspoon of water and place this solution into a bucket. Use a sponge or a washcloth to soak up the solution and then directly apply the solution onto the unwanted stain until the stain gets removed. After the stain is gone, rinse the detergent off using your garden hose.
Best way to lay artificial grass for dogs
Follow these simple steps to install your artificial grass for dogs:
Prepare the installation site – The first step is to remove the existing turf that you have to make room for your faux grass. You will need some turf cutters to remove the dirt and a few inches of sod. Be mindful that your artificial grass will hang about half an inch over the edge- your grass will need to be trimmed accordingly.
At this point, you will want to do the following:
Remove any sprinklers
Apply a plastic membrane to stop weeds from growing
Smooth any bumps or uneven surfaces
Leave an area for drainage
Trim your artificial grass – The next step is to carefully and precisely cut your grass. This process requires care and patience. You'll want to use a sharp utility knife to cut your grass to the necessary.
Lay the grass tiles – Put a shock-absorbing layer down first if you want a more cushioned feel to your yard grass. To ensure that the grass fits perfectly, push it in well around the corners to stop gaps from forming. Nail the grass tiles firmly and squarely while you're on the perimeter, and use a nail to attach it after each foot. If necessary, you can further secure the grass with an adhesive.
Artificial grass tiles for dogs
Artificial grass tiles are rubber tiles that have fake grass on top. Moreover, the faux grass is attached in such a way that it stays porous.
The number one advantage of grass tiles, when compared to the standard rubber variations, is that they have a more luxurious and softer look.
The convenience of artificial grass is phenomenal. The grass blades can get cut to any size that you want. Furthermore, they can get easily moved if you have a different design in mind. They are simple to install and will last for as long as you care for them. They are easy to clean and can get done with a broom or a vacuum.
FAQs
1. Can dogs pee and poop on fake grass?
The short answer is yes! As mentioned before, dogs can play and relieve themselves in fake grass too. However, you must be attentive to clean up after your pet.
Synthetic turf does not break down or waste the way that natural grass does. Therefore, manual cleaning will be necessary to prevent odors from staying in your grass.
2. How do you clean a dog potty from fake grass?
If your faux grass is giving off a foul smell from dog urine, then you'll need to clean and deodorize the affected areas to get rid of the smell. Begin by hosing the area with your garden hose. Next, make a solution of equal parts vinegar and water. Spray the Section with the solution and rinse with clean water.
3. Can dogs rip up fake grass?
If the grass gets installed correctly, your dog should not become enticed to dig up the fake grass. Fake grass has many different properties than natural grass does, such as a lack of mud. The nylon/polypropylene fibers make the turf very durable, so busy dogs won't ruin it.
4. Are artificial grasses too hot for dogs?
While artificial grass isn't as cool as natural grass, you can be sure that it doesn't radiate heat to the degree that rock, pavement, or brick does. If you're concerned about your dog's paws being too hot, we recommend that you have a designated shaded area in your yard.
5. Can my dog be allergic to artificial grasses like Astroturf?
Artificial grass gets crafted for your dog's safety. For this reason, it is a great alternative to natural grass. However, to ensure that the fake grass is completely safe, be sure to invest in a high-quality product.